NEW YORK (CNNMoney.com) -- If you're in the market for a new flatscreen TV this holiday season, you're in luck.
As nervous merchants prepare to draw reluctant shoppers with juicy sales, retail experts say some of the sweetest deals in the coming weeks will be on high-definition televisions.
As they compete for customers, TV sellers are going to wage a price war, and the biggest bargains will likely be on smaller models.
"The difference from prior holiday discounts on TVs is that consumers will find really, really good prices on 32-inch to 37-inch HDTVs and not necessarily the 65-inch models," said Phillip Swann, a consumer electronics expert and publisher of TVpredictions.com.
"We're already seeing 32-inch LCD models under $400. Typically they are $500, or more," he said. "And we're also seeing prices drop from about a $1,000 for 40-inch screens to $800."
One example, Target (TGT, Fortune 500) is reportedly featuring a 32-inch Westinghouse LCD HDTV for $246 as a "doorbuster special" on Black Friday, the day after Thanksgiving when holiday shopping kicks off in earnest.
"The $246 HDTV is the lowest price that we've ever seen for that model," said Brad Olson, founder of Gottadeal.com, a Web site that markets itself as one of many "official" Black Friday deal sites.
Ross Rubin, a consumer electronics analyst with market research firm NPD Group, agreed. "A 32-inch [TV] under $400 is going to be a key price point for merchants," Ross said.
"The smaller TV models also appeal to consumers who already have a 47 or 50-inch HDTV in the living room and they want to add another flatscreen in the bedroom or elsewhere," Rubin said.
At the same time, the economy and a shaky job market is also spurring interest in smaller-sized TVs.
"Consumers still want to buy a new TV, but at a smaller pricetag," said Swann.
Google (GOOG, Fortune 500) searches in the past 90 days for 32-inch LCD HDTVs have been 44% higher than searches for 37-inch LCD HDTVs, and 24% higher than searches for 42-inch LCD models.
Prices are slipping on big screens
Even without deep discounts on the bigger TV models, experts say consumers are still paying less versus last year as industry prices retreat about 20% overall on HDTVs.
"Some 46-inch and 52-inch HDTV models are between $1,500 to $2,000 but that's still less than last year," said Swann.
But if you're determined to bag a bargain on a bigger screen, here's a useful tip: opt for a 720p model. "Your best chance on a great bargain is on a plasma 720p 50-inch TV for maybe a $1,000," said Swann.
He said retailers are aggressively discounting that sub-category of HDTVs in favor of stocking more of the 1080p resolution models. "The 720p is more affordable, and really, most people can't even tell the difference in picture quality between the 720p and the 1080p," he said.
So where will bargain hunters find the best deals? NPD's Rubin says Wal-Mart, Best Buy, Costco (COST, Fortune 500) and online merchants will duke it out on TVs this holiday season.
"With the absence of Circuit City, both Best Buy (BBY, Fortune 500) and Wal-Mart (WMT, Fortune 500) see an opportunity to capture Circuit City's piece of the TV pie," Rubin said.
Circuit City, the former No. 2 electronics seller after Best Buy, went out of business earlier this year.
In a sign of how fierce the battle on price might be, Wal-Mart jump started its TV promotions last weekend, offering its shoppers 42-inch Sharp 1080p HDTVs for $498, 46-inch Sharp model for $698 and 52-inch Sharp model for $898.
However, Best Buy, the electronics seller touts a year-round price-matching policy whereby it will match a competitor's lower price on the same exact television model.
"We shop our competitors daily." Said Barry Judge, Best Buy's chief marketing officer. "Recently, of the products we carry that overlap with Wal-Mart, we were at or below their price on 78 percent of the products. For instance, Best Buy was priced at or below Walmart on 12 of 13 identical TVs."
Finally, both Swann and Rubin strongly suggest that shoppers bag the best deals when they find them because merchants are stocking fewer number of products for the holiday season.
"In previous years, I'd tell people wait until Dec. 10th or Dec. 15th before you buy," said Swann. "This time, take it when you see it or it might not be around again."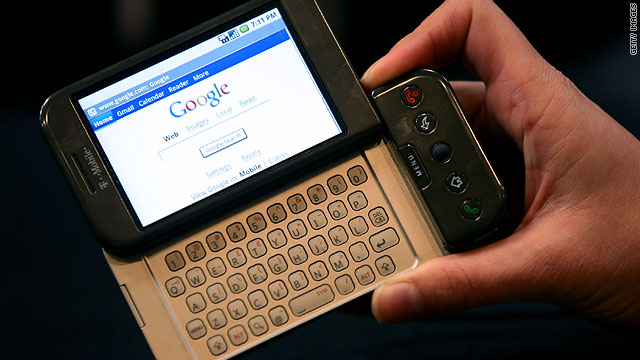 Could Google become a serious rival to AT&T and Verizon?
STORY HIGHLIGHTS
Google is set to become your new phone company, perhaps reducing your phone bill to zilch in the process.

Google has bought Gizmo5, an online phone company that is akin to Skype

Users could make and receive calls that bypass the per-minute billing on smartphones

Consultant: "If AT&T is Coca-Cola, Google is now 7-UP"

(Wired) -- Google is set to become your new phone company, perhaps reducing your phone bill to zilch in the process.
Seriously.
Google has bought Gizmo5, an online phone company that is akin to Skype but based on open protocols and with a lot fewer users. TechCrunch, which broke the news on Monday, reported that Google spent $30 million on the company.
Google announced the Gizmo acquisition on Thursday afternoon Pacific Time. Gizmo5's founder Michael Robertson, a brash serial entrepreneur, will become an Adviser to Google Voice.
It's a potent recipe -- take Gizmo5's open standards-based online calling system. Add to it the new ability to route calls on Google's massive network of cheap fiber. Toss in Google Voice's free phone number, which will ring your mobile phone, your home phone and your Gizmo5 client on your laptop. ÿþ
Meanwhile you can use Gizmo5 to make ultracheap outgoing calls to domestic and international phone numbers, and free calls to Skype, Google Talk, Yahoo and AIM users. You could make and receive calls that bypass the per-minute billing on your smartphone.
Then layer on deluxe phone services like free SMS, voicemail transcription, customized call routing, free conference calls and voicemails sent as recordings to your e-mail account, and you have a phone service that competes with Skype, landlines and the Internet telephone offerings from Vonage and cable companies.
That's not just pie in-the-sky dreaming.
Ask longtime VOIP watcher and consultant Andy Abramson, who introduced the idea of integrating Gizmo5 and Grand Central (nowGoogle Voice), long before Google bought either.
"If AT&T is Coca-Cola, Google is now 7-UP."
--Andy Abramson
"Google is now the the uncommon carrier," Abramson said, punning on the iconic 7-UP commercials and the phrase "common carrier." That refers to phone companies that operate on the traditional publicly switched network -- a status that gives them benefits and obligations.
"If AT&T is Coca-Cola, Google is now 7-UP," Abramson added.
"All of a sudden you have something that offers more than Skype," Abramson said, saying the combo could now put Google in competition with phone and cable companies, IP "telephony" (VOIP) companies and Vonage. "But now you can do everything with Google and pay nothing and have a platform where engineers can build new things."
In fact, Gizmo5 offered a rogue version of that service for $6 a month until last week.
On November 2, Gizmo5 abruptly canceled the two-month old "residential service," which paired the free phone number available through Google Voice with Gizmo's Internet calling service to provide the equivalent of a home-phone replacement like Vonage.
Now, that service has been wiped off the Internet and, more intriguingly, Google's cache of the page disappeared the day after the acquisition was reported.
For $6 a month, Gizmo5 residential users got 300 minutes a month of outbound calling anywhere in the United States, unlimited incoming calls on their home computers or even home phones (using a broadband-to-phone network conversion box) and E911 service (which means 911 calls work like landlines calls do, once you register your home address).
It's not too surprising that offer got taken down.
For one Google is already trying to steer clear of U.S. regulators by making it clear that Google Voice isn't a replacement for a home phone since you have to have phone service from some other company to use it. You can forward calls from a Google Voice number to your Gizmo5 number, but you must have a mobile or landline number as well.
Google doesn't say it, but clearly it hopes that restriction will keep the service from incurring the common carrier obligations attached to the regular phone system (PSTN), and the 911 and wiretapping requirements that apply to Internet telephony and to traditional copper wire phones.
AT&T has already tried to sic federal regulators on Google Voice because Google is blocking outgoing calls to a handful of shady calling services mostly free conference-calling services that exploit federal rules that let rural phone companies charge high fees to connect calls to rural areas.
AT&T itself has sued similar services that play this arbitrage game, and complaining to the feds may have only brought more attention to an issue the FCC has procrastinating fixing for too long.
Gizmo5 will also help save Google money on phone-call termination fees as users start to use computer-based clients to connect to Google Voice. That would allow Google to recoup the purchase price of $30 million in little time, if only it saves even a few dollars per user per year.
Google also gets Michael Robertson, a troublemaker with technical chops. Robertson made millions from MP3.com in the dot-com boom, despite drawing lawsuits from major record labels for creating innovative services. He was later sued by Microsoft for his startup Lindows, which made Linux installations for cheap PCs. And his current music venture, MP3tunes.com, is being sued by EMI.
Though still in invite-only mode, Google Voice has about 580,000 active users and nearly 1.5 million registered users, according to a Google filing with the FCC.
If you are interested in the combination, you might want to sign up for Gizmo5 before the acquisition is formally announced, since Google often freezes new registrations at companies it acquires until it figures out how to integrate the technology.